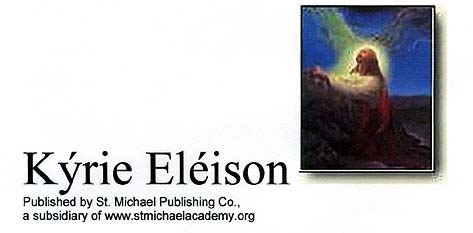 Vol. 1 No. 1 "Ecumenism verses Unity"
Vol. 2 No. 1 "Holy Theotokos Shrine Dedication"
Vol. 3 No.1 "The Cost, the Price of Entering the Kingdom of Heaven"
Vol.4 No.1 " The Great Deception - satan's Plan
In Celebration of Saint John the Baptist, October 2007 (123 KB PDF)
Vol. 5 No. 1 "Three Pillars of Othododoxy" (June 2009)
Vol. 6 No. 1 "The Unity Prayer of Jesus Christ, God in the Flesh" 2011 (PDF 169 KB)
Vol. 7 No. 1 "Open Letter to Count Sandro Calleja of the O.S.S., Patriarch Bartholomew, Pope Benedictine XVI"